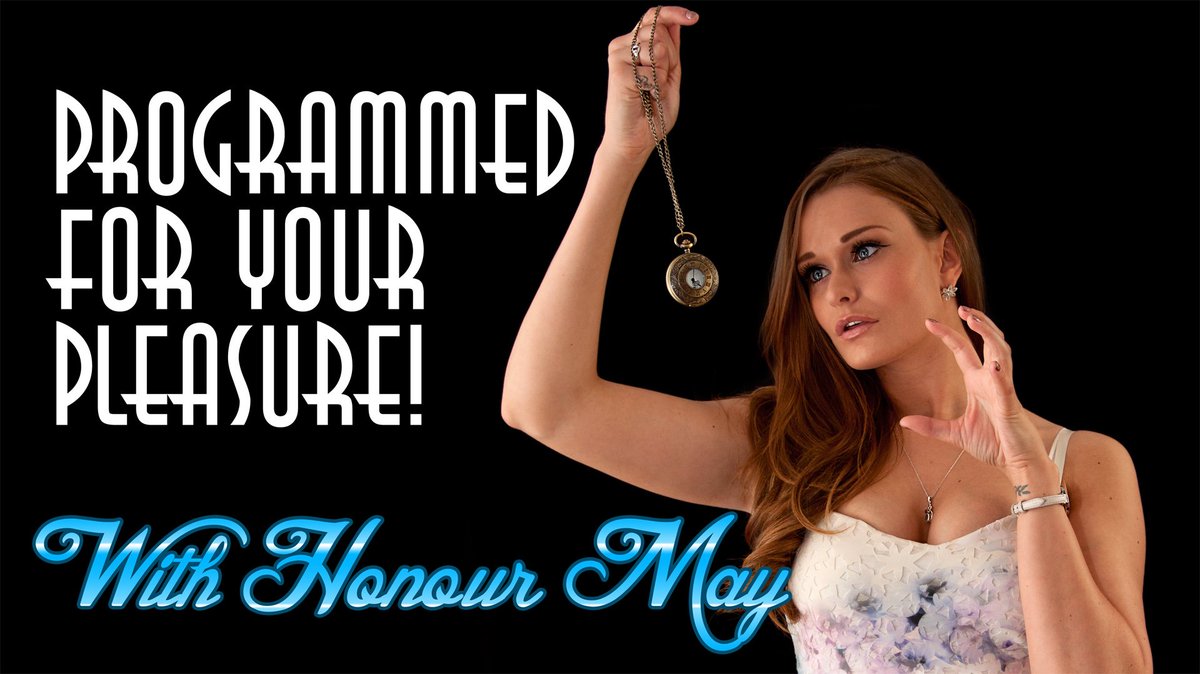 DIRECTOR'S CHOICE
My third shoot with the stonkingly stunning Honour May!
Honour's received quite a lot of attention from people wanting to hypnotize and play with her through Skype webcam sessions and chats, so this time round I leave her with programming making it much easier for her to go under. (When she wants to and has been asked first. Don't go triggering out of the blue or she'll think you an oddball. :P)
By this point in our working relationship we have pretty great rapport, (Must be all those naked spankings.) and Honour drops into trance easier than ever. I carry out an extensive amount of triggering and training, and by the end of the video she'll become whoever or whatever I command, I have her accents switching between posh english, american and northern english, and she has triggers in place to make her play, dance, go blank, pose, amnesiac, dominant, submissive, come to the edge of orgasm, lose all ability to orgasm or orgasm on command! (And probably a fair few more)
The only thing I *wasn't* able to get her doing was to lisp. Honour's worked far too long on her perfectly posh accent and elocution to ruin that (even in trance) by lisping. Kinda funny that she'll happily dance, strip, play and obey in every other respect, but I guess you can't have everything.
This one's kind of a counterpoint to Leo's shoot, as Leo maintained her modesty for 99% of her shoot. (Though there was that one wardrobe malfunction.) Honour's butt naked for the majority of this video. It made putting a trailer up on YouTube tricky to say the least… even then, I had to get a little creative with what I needed to blur out. See what I mean below:

Or to see a NSFW preview, CLICK HERE!
Not that she's aware of it half the time. I have her obliviously playing with and touching herself at one point and she asks if I can open a window.
Super steamy and definitely one to pick up if you're a fan of gorgeous super slutty english ladies who look much more innocent than they actually are.
FANTASTIC vid. Very definitely a Director's Choice on looks and trance depth alone.
Gallery
As usual, images against the black background are taken before the hypnosis portion of the shoot. Images taken in the living room feature genuine hypnosis.

Contents
0:00:10 Introduction
0:02:00 Honours fans want mind control triggers for her!
0:03:45 Induction setup
0:04:45 Lex is dressed neatly for once
0:06:00 Actual Induction Start
0:10:10 Inverted feedback. Trying to wake… only drops her deeper
0:11:40 Name Amnesia
0:12:30 Thinks her name is "Samantha"
0:14:30 Filled with feelings of pleasure when I touch and stroke her
0:15:00 Stroking my sleeping pet's legs
0:15:30 Rag Doll Check
0:17:20 Pendant Training. Weakening her resolve more and more.
0:18:45 Finds me ridiculous… till I show her the pendant
0:19:30 Needs to undress
0:20:03 Smiling like a doll
0:20:50 Pendant gone, mind back. Pendant back, mind gone!
0:21:25 Hasn't noticed that she's undressed
0:22:00 Obliviously teasing herself
0:23:05 Sleep!
0:23:20 Blank Trigger Training
0:27:00 Submissive outbursts
0:29:00 Forced to pose
0:30:00 Panties to her knees… and still arousing herself
0:30:40 Sniffs her own Panties
0:30:55 Gagged by her own Panties… can't spit them out
0:31:45 Forced to pose and play whilst pantie-gagged
0:32:30 Mentally bound even though she wants to play
0:33:00 Stripping my sex slave
0:34:30 Freeze trigger mannequin training
0:40:20 American Accent Installed (Oblivious)
0:40:30 American CamShow
0:42:40 Notices her american accent… can't stop using it.
0:44:10 Northern (Ned Stark) Accent
0:44:40 Spreading and displaying herself
0:46:00 Clit Relocation to Nipples
0:46:25 Clit Relocation to Thumbs
0:46:50 Frozen Thumb Sucker Closeup & Flyaround
0:48:20 Frozen Eye Checks
0:49:30 Brinking… but needs my permission to orgasm
0:51:50 Frozen at the Brink
0:52:20 Orgasm on Command
0:54:10 Pendant Mantra Training
0:57:30 Mindless Masseusse
0:58:10 Submissive Chatty Masseusse that loves to please
1:00:00 Dominant Dominatrix… with no idea that she's massaging my shoulders
1:01:30 Girly American Dominatrix
1:04:20 Doesn't believe she's naked
1:06:10 Realises she's naked. Threatens me with a spanking!
1:06:30 Switching between Mistress Samantha and Slavegirl Sammy
1:07:15 Enchanted by her own breasts
1:08:00 Music makes the slavegirl dance
1:09:45 Nude Posed for Inspection
1:10:00 Mistress Samantha is Stripped and Helpless. (Poor thing!)
1:10:30 Music Compels the Mistress to Sexy Dance!
1:11:30 Adjusting Mistress's Attitude
1:13:20 Mindless then Smiling Puppet
1:15:30 Submissive Stroking Dancing Slut
1:17:40 Frozen Sucking her fingers & virtually unblinking
1:19:30 Pendant Training
1:23:40 Outfit Change to Mistress
1:25:00 Hardass Mistress… with a lisp
1:25:30 Turns out Honour can't lisp…
1:30:00 Entrances herself
1:32:10 Programming the Sleeping Mistress
1:33:50 Mindless Mistress on Display
1:35:05 Collaring the former Mistress
1:36:30 Bowing for her new playmates
1:37:15 Leaves with triggers for future friends!
1:37:28 Honour Contact Info
1:37:40 Bonus 360: Dress
1:38:12 Bonus 360: Art Nude Model
Running Time: 98 Minutes
Purchase Price: $19.99