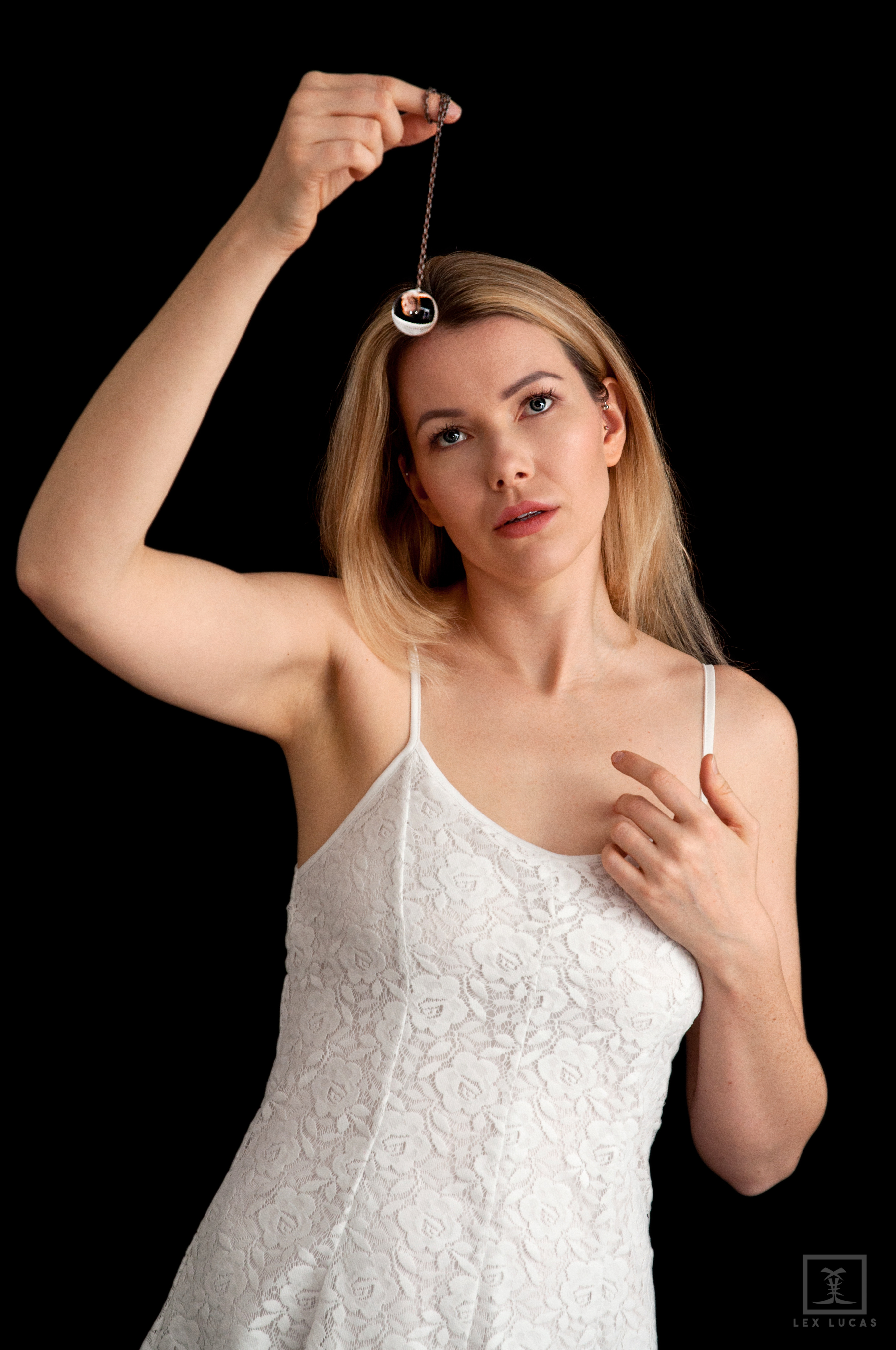 A great third shoot with Nicky, and every time I work with her, I realise more and more that there's no scene you can't throw at this girl that she won't rise to, with her genius levels of creativity and comedy. A suggestion that she become a wicked witch was met with the most hilarious voice and behaviour as she wrinkled up her nose (now 3 inches longer in her mind's eye) and grumbled unceasingly about those young glamour models and their idiot brains.
Shortly afterwards she was having an argument with herself, taking turns at being Nicky trapped in the mirror, and Cackletta the Witch, enjoying the use of Nicky's body and crowing about how Nicky could have her body back once she was done with it. As Nicky begs for her body back, the Witch tricks her into drinking a potion that seals her mouth shut! Further frustration and crowing ensues!
One fantastic Age Regression scene was requested by a Patron, where Nicky (Firmly believing that she's a prim-and-proper forty year old School Principal with her hair in a bun) has a naughty student in her office that she's doing her best to chastize. Every time he snaps his fingers though, she gets five years younger…. 10 IQ points dumber… and feels a little less inclined to tell him off, and a little more flirtatious.
Awesome shoot. Hope you enjoy it!
CONTENTS
00:10 Introduction
07:43 Induction
14:40 Skeptical about being under
16:10 Skeptical… but too floppy to move
17:40 Stiff and Rigid
20:20 Copy Cat Pirate Hat
23:00 Hooked Nose and a Witch's Hat
29:00 A Witch's Brew!
32:00 Cackletta Transformed!
34:30 Can't resist undressing
36:10 Nicky is trapped in the mirror. Cackletta has her body!
42:10 The Witch magic's Nicky's mouth shut
43:13 Nicky and the Witch (conversations with yourself)
46:00 Nicky the CatGirl
49:30 Talk to my boobs and butt!
52:00 Extroversion / Embarrassment Switching
55:55 Snap to Pose
57:50 Snap to Pose, Snap to Realise
1:04:00 Pendant Fixation
1:05:00 Ahegao
1:08:00 Age Regression / Intelligence Reduction (School Principal!)
1:20:40 Possessed Gloves
1:24:00 Knockout Gloves!
1:26:20 Mindless Maid
1:27:40 Puppeteering
1:28:30 Expression Control
1:29:00 Zombie Walking
PURCHASE PRICE: $29.99
RUNNING TIME: 94 Minutes